Th
is little book has the cutest illustrations - they make me smile. It triggers one of those memories that I hold very dear to my heart.
When I was a little girl about five or six years old I used to go visit my granddaddy in Georgia and my Aunt Hazel - she lived with granddaddy at that time - who was quite a bit older than me, some 15 plus years if I had to guess,

and she would play with me like a sister.
There were many times we would go outside and play with some old dishes, silverware, and teacups in the dirt - I should say that good old Georgia clay dirt. We would make mud pies and fill the little teacups up with that old wet clay dirt and pack it tightly in the cups, turn them upside down, and out would come the most perfect mud pies I had ever seen.
Who knew that those old junkie dishes and teacups that were discarded and no one wanted anymore would bring such joy to a young girl then and now bring back such sweet memories many, many years later. You don't see little girls making mud pies outdoors in the dirt these days. You know, those really were the good old days, weren't they?
That's what comes to my memory when I look at the little teacup named "Chip" in this fairy tale. Hope you like this one as much as I do.


Upcycled Golden Book Notebook Upcycled Children's Notebook: Disney's Beauty and the Beast the Teapot's Tale
Sorry about the picture being out of the margin - it just wouldn't cooperate - still wanted to post this.
Upcycled Golden Book Notebook Upcycled Children's Notebook - Disney's Beauty and the Beast The Teapot's Tale

"Lonely years passed while the Beast hid from the world. He refused to leave the castle. He didn't even want any tea. I tried to stay cheerful, but there's nothing sadder than an empty teapot - except an empty teacup like my poor son, Chip."

This listing is for a once loved Little Golden Book Storybook that has been upcycled to a notebook. I remember when my children were very young I always had to have writing paper or a book with us when we went to church to keep them quiet and their little minds occupied. A lot of times they would write on the pages of the books and in no time you couldn't make out the words in the story.

I turn children's best loved storybooks into little notebooks where they can draw and color and write and still keep the pages of the stories fresh for the next reader. In this upcycled Disney's Beauty and the Beast Notebook I've included the full story along with a colorful ribbon bookmark, 30 sheets of white blank paper, 10 sheets of writing paper, and 10 sheets of tracing paper just for your little one's creative side.

The measurements of this notebook is 8 X 6 3/4 inches.

You can find more of my notebooks here in my shop in the notebooks/notepads section: http://www.etsy.com/shop/jBunae?section_id=10300721
This little book got me to thinking about all those broken teacups and broken teapots we run across at estate sales and I found this old post from 2009 and thought I would pass it on to you. Enjoy!
How can you reuse or recycle broken teapots?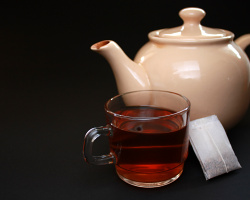 You could give gluing it back together a go — it's not quite as much of a safety worry as say, gluing a broken handle back onto a cup/mug but there is still the risk of scalding if it comes off again at an inopportune moment.
So other less hazardous suggestions? Almost needless to say, teapots make very fun plant pots or utensil/pen pots. Depending how much of the spout remains, you could use it as an indoor water can too.
The china/pottery from completely broken teapots can be used for drainage at the bottom of plant pots – although if the lid is intact and you're buying another similar size teapot to replace it, keep the lid as a mix-match spare.
Any other suggestions ?